Our incumbent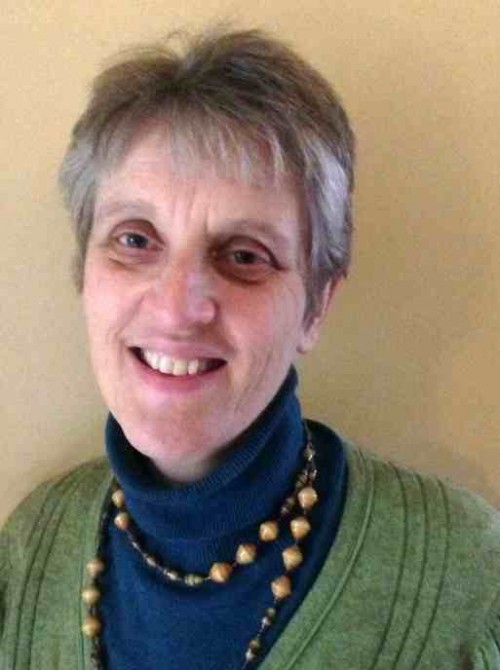 Rev Clare Saunders
I was born north of the border, in Dundee in Scotland, where my father was Rector of St Salvador's, a slum parish, so I grew up surrounded by poverty and urban concerns. When I was 11, my mother died, and as a family we moved to Somerset, at a time when clergy could be vicar of just one parish. My early teenage years were spent in a village, just outside Taunton, but in 6th Form, my father moved to a town parish in Bridgwater.
I was fortunate enough to be awarded an AFS (American Field Service) scholarship, and as soon as I finished A levels, I went off to the USA, to St Louis, Missouri, where I attended High School as a Senior and enjoyed the delights of all things American. Back in Britain, I went to Hull University to read History and there met Mark, who was to become my husband. We married in 1982, but before that, I was awarded another scholarship, this time from the World Council of Churches, and I went to work with the Sisters of the Church of South India, a Protestant equivalent of the Sisters of Mercy, founded by Mother Theresa. That experience was to shape me as a person, in a way no other has done.
On returning to the UK, I trained as a teacher of RE; I did my NQT year at Gt Yarmouth Grammar School, then, after getting married, I continued my teaching career in Haverhill, where Mark had become curate. We have been in Suffolk ever since.
While teaching, I trained for ordination with Rowan Williams as my tutor; I was a very lucky person. In 1985 I was made deaconess; in 1987 I was ordained deacon, and then in 1994, priest.
We moved to Melton in 1987, where Mark was parish priest and I worked as Diocesan Director of Education – a job I loved. After Tom was born in 1997, and Mark had moved into his present job, I left education to become a parish priest – part-time in Earl Soham, Cretingham and Ashfield while Tom was young, and then full-time in Grundisburgh, Hasketon, Burgh and Boulge from 2005.
I am really excited at the opportunity of working in a ministry team – getting to know new people, sharing ideas, building people up in discipleship and service. Now isn't always an easy time in which to be a Christian, but it is an exciting time. Jesus never promised us an easy life, but he did promise always to be with us, and in that I rejoice.
For the last 4 years I have worked as part of a larger ministry team covering the 8 parishes within the Carlford Benefice, of which Clopton is one. It is a huge privilege to work in such a strong team of fellow ministers and lay people. Many of our churches are small in number and we are moving in our understanding of what it is to co-operate and work together. Clopton is exploring a stronger working partnership with Burgh, as a "companion" parish. This is in its early stages, but we are looking forward to getting to know one another better and share our faith and grow in depth and hopefully number!
As incumbent, I am a bit unusual in that I don't live in the benefice. My husband is the Rector of Framlingham, and so that is where I live, but daily come over to the office which is based in Grundisburgh- the Upper Room – opposite Olde Forge Stores and can easily be contacted on 01473 735183 or by email revclaresanders@tiscali.co.uk